Looking for Dog Boarding in Fountain Inn, SC, Simpsonville, SC, or the Surrounding Areas?
You shouldn't be the only one that gets to have fun while you're on vacation! Dog Trainers Workshop is the safest place to board your dogs while you go away for business or pleasure. Our caregivers have a passion for animals and love to get your pet out interacting with people and other pets during their stay with us, making them feel more relaxed and comfortable in their temporarily new environment.
---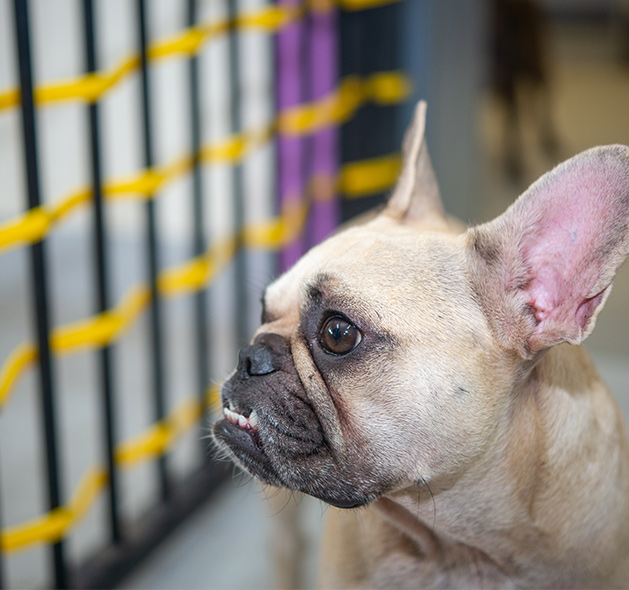 We Accommodate Dogs and Puppies of All Breeds with Any Needs in Our Climate Controlled Facility
We are honored you have chosen to leave your dog with Dog Trainers Workshop. While you are away, we offer an array of amenities to make it simple for you and give you peace of mind while your four-legged friend is staying with us.
Most importantly, your dog has an individual indoor/outdoor climate-controlled, 16-foot kennel living area, unless you ask us to house more than one of your dogs together. We supply bowls, toys, bedding, and other supplies to keep your dog happy and comfortable. However, to avoid GI upset, we encourage you to bring your dog's own food in individually prepared meals, along with any medications they may require during their stay. If you are unable to do so, we will supply food for you. Should your dog require any special diets or medications, we are happy to administer these at no additional cost. We will also address any medical needs your dog has while he is with us. If a veterinary visit is needed, we will notify you immediately and make any necessary arrangements.
We will be here to check on your dog by early each morning. During the day, if your dog does not use his run to relieve himself, he will be let out in an outdoor exercise area regularly. We will also return after normal business hours to check on him, let him relieve himself, make sure he is happy and comfortable before retiring for the evening. The cost for boarding is $28.00 for each day your dog stays with us. ($51.00 for two dogs in the same run and $74.00 for three dogs in the same run) You will be charged for the day you drop him off as well as the day you pick up unless you pick up before 11:00am. (Pick up time does not apply to Sunday's or Holiday Hours) Upon your request we will provide additional exercise for a small session fee in the form of a nature walk ($8 per session), swim in the pond ($10 per session), or romping in the play yard with a small group of similar size dogs ($5 per session).
We will return your dog clean by giving him a bath if he stays three or more nights. If your dog is staying less than three nights, we can give your dog a bath for an additional charge.
Fill Out a Boarding Request Now
---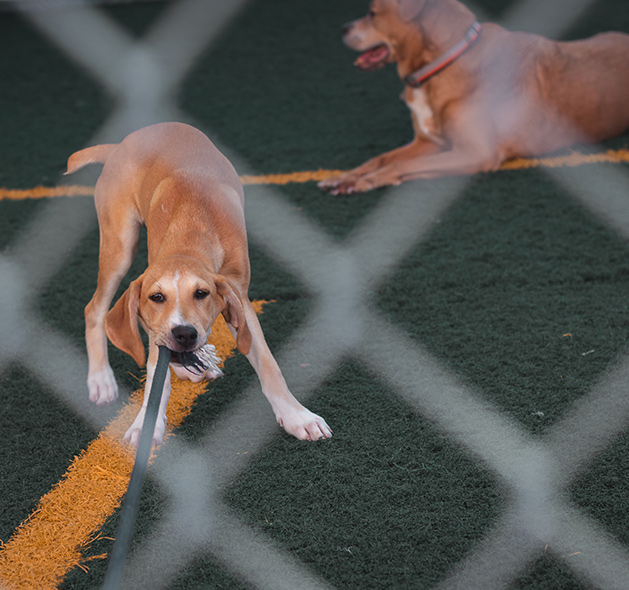 What Do We Need from You?
If you're ready to book your pup's stay with us, there are just a few things we need you to do before you leave. First is to make a boarding reservation online. Please note that your request is not finalized by making a reservation, but rather after you receive a confirmation email. If you need help or have any questions, our staff is happy to help you via phone or email.
Once you have made your reservation, we encourage you to pack up your dog's favorite chew toy and enough dog food that is portioned out for each day you are gone. We keep your dog on a feeding schedule that is as close to your normal routine with them as possible. If your pup has special diet restrictions or needs any medications, we will need to be notified of that in your boarding request and again when you drop him or her off to us. It is at no additional cost to you; we simply want to provide the best care for your pet.
Ready, Set, Board!