Break Their Bad Habits Like Pulling on the Leash & Jumping on People with our Boarding School Program.
Do you have a busy life schedule or are you going on vacations? Wouldn't it be nice to come home to a well-behaved dog? We can help utilize your time away by training your dog in your absence. Since everyone is different and unique, we've developed a few different training packages to fit your need.
---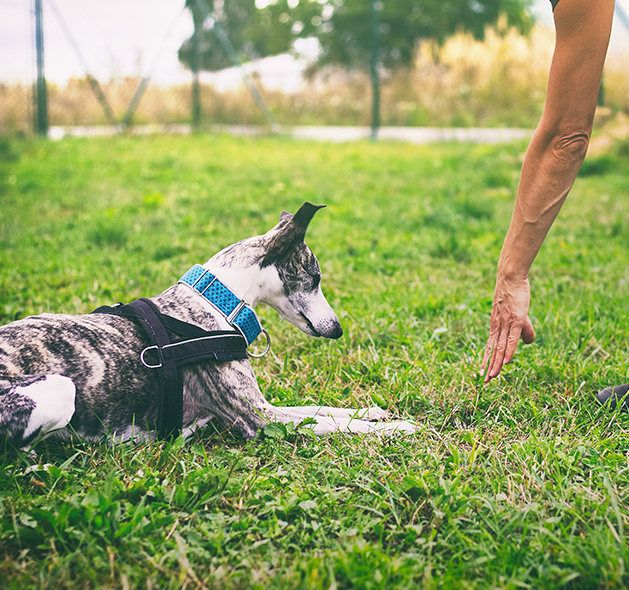 We Teach Your Dog Respect and Basic Commands in Our Dog Boarding School
Sit.
Place.
Down.
Come.
These are all commands we want our dogs to perform, yet this requires consistent training. If you're like most dog owners, getting started is the hardest part. Taking time out of your busy schedule may just not be possible for your family. Figuring out the best way to train your dog when you have no idea what you're doing can become a stressful ordeal, especially when there is more than one person in your home. Our dog trainers have decades of combined experience training energetic dogs into well-behaved members of your family. Let them stay with us for a week and we will give you a jump start on the training they need to be able to listen to a command and respond appropriately.
During Our Boarding School Program, We Will:
Teach your dog to walk on a loose leash
Introduce your dog to basic commands such as Sit, Down, Place and Come
Address any behavior problems you are having such as jumping on guests
At the end of the week, we will spend an hour with you teaching you how to continue his training
Boarding School Application
---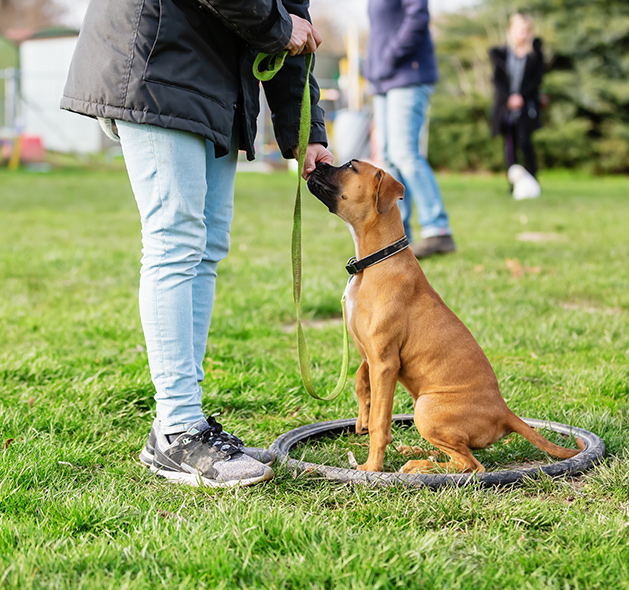 Is Boarding School the Right Option for Your Dog?
One-Week Training $595/$80 Non-Refundable Deposit Required
(Dogs must be at least 17 weeks of age & fully vaccinated)
Our one-week training program starts with the basic fundamentals such as walking on a loose leash, sit, down, place, come when called and jumping on people. Our training standard is balanced with reinforcement, praise and consistency. This will give you the solid foundational skills to continue a successful and manageable relationship with your dog. (1 hour private lesson at pick-up)
Two-Week Training $965/$100 Non-refundable Deposit Required
(Dogs must be at least 6 months of age & fully vaccinated)
While your dog is with us for two weeks, we will work on his basic obedience commands, plus, any additional concerns that need attention. We will work on walking on a loose leash, sit, down, come when called, place, off, as well as, broadening his skills to help prepare your dog for public settings. This program goes a step beyond our one-week basic training to increase your dog's ability to be a good, well-balanced dog that the family can enjoy. In the mean time, you may enjoy reading one of these articles. (1½ hour private lesson at pick-up)

If your dog has specific behavioral problems such as acting territorial, intimidation towards you or others, possessive tendencies, or other forms of aggression, then the two-week or three-week program is mandatory. You will need to call our office to see if we will be able to address the issues you are experiencing. We will address some basic obedience manners, however, addressing any unique behaviors or forms of aggression will need to be discussed. If you are unsure, please call us for further information.
Three-Week Training (Electric Collar Program)$1925/$250 Non-Refundable Deposit Required
(Dogs must be at least 6 months of age & fully vaccinated)
For many owners, they are looking for a more absolute method that fits their active lifestyle, disabilities, or simply don't have a fenced-in yard. In these cases, we would recommend our electric collar method. We designed a very structured training curriculum with an electric collar. If you are looking for a well-trained dog with more experience with good manners and commands, then this elite package is your best choice. The benefit of this three-week training program is it will give your dog more days to absorb the obedience commands and become more comfortable with maintaining good manners. We always say that our training standard is to create good habits & this program allows three weeks of consistent reinforcement and praise. By the end of three weeks, your dog should be well on his way to being the best dog you have ever owned. Please, do NOT buy an electric collar and use it without our professional assistance. Our program is sound, reliable and the technique is applied in the best interest of the dog. If you choose this package, a Garmin electric collar is already included in this price. Please feel free to contact us with your questions or scheduling. (2 hour private lesson at pick-up)
Fill Out Boarding School Application Now